The Troubleshooter needs to be a movie. It's cinematic in pace in style, and has an appeal sure to net a wide range of moviegoers from sci-fi fans to fans of old private eye and noir flicks. It's a combination of old and new, past and future, or Blade Runner meets Bogart, as I like to call it. When I write, I inevitably start to think of my work in the terms of a film. The cast selection becomes a natural process as the characters come to life.
So without further ado, this is the cast I'd love for The Troubleshooter. I'm casting roles for all the major characters featured in Red-Eyed Killer. We'll do New Haven Blues next time.
Aaron Eckhart is Mick Trubble
Take a look at the above picture. You see a tough guy. A guy with a chin that looks like it can take a punch. A man with a cold light behind his eyes. You're looking at Mick Trubble. Aaron Eckhart has never had a true breakout role yet, but he has both the charisma and the gritty edge to play Mick Trubble. (See his scene-stealing role in the Dark Knight for proof.) So let's make him a bona-fide franchise star. This was a fortunately easy casting choice. If you think I'm wrong, just check out the similarity with Mark Krajnak, who poses as Mick Trubble for the cover art and promos for the Troubleshooter:
Emmy Rossum is Natasha Luzzatti
I've only seen Emmy in Phantom Of the Opera, but she definitely has the look I imagine for Natasha. Natasha is a blend of youthful naiveté combined with attractive allure, and I believe Emmy would pull that role off nicely.  One look and it's apparent that she's well suited to ensnare Mick Trubble's conflicted feelings.
Billy Crystal as Mr. Luzzatti
I haven't seen Billy Crystal in much of anything lately (aside from the Clippers court side), so let's bring him back in the role of Mr. Luzzatti, owner of the Luzzatti apartments and Natasha's ill-fated father. Billy has the acting chops along with the fatherly persona to play the part to perfection.
Vincent Pastore is Big Louie
Big Louie's name suggests major girth. Vincent Pastore has it. Big Louie is also possesses an intimidating nature, being a loan shark with a vicious streak. Think Vincent Pastore can pull of intimidating? Budda-bing.
Ethan Hawke is Frankie Newman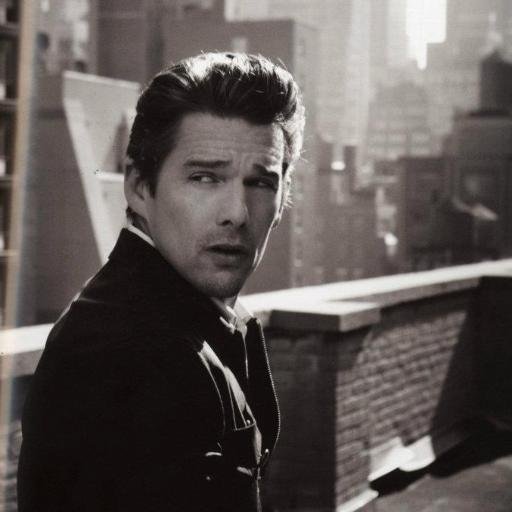 Frankie Newman is a chameleon, posing as a nightclub singer while bartering secrets and information to the highest bidder. Who knows what other secrets he's hiding? What we do know is Ethan Hawke, as a chameleon actor, is the perfect man for the job.
Stephen Lang is Captain Graves
Captain Graves pops up briefly in Red-Eyed Killer, but factors larger in New Haven Blues. He's a tough old cop, and no one plays tough old guys with more gusto than Stephen Lang.
Monica Bellucci is Madame Esmeralda
Madame Esmeralda is the alluring owner of the upscale brothel where Mick stashes Natasha for safekeeping. She is both beautiful and mysterious, two things the lovely Monica Bellucci has in spades.
Micheal Fassbender is Hunter Valentino
He's played just about every type of character there is. Can he channel some of that 'David' peculiarity into the synthetic humanoid Hunter Valentino? Granted, Hunter has only a small role in Red-Eyed Killer, but his is an important character with huge ramifications in the following installments. Micheal Fassbender is the perfect actor to capture Hunter's evolving personality.
Brad Pitt is Pike
Take as look at the above picture. Pitt is practically ready to step into the studio to film the role of Pike, the flamboyant gangster who sets a macabre set of events in motion. Granted, the role of Pike isn't exactly large in the story. But for Pitt I'm sure we can expand the role a bit in the film version. You know, include some additional back story. Not to mention throw in a producing credit. Who can say no to that?
Milla Jovovich as the Red-Eyed Killer
When you have a seriously lethal character, you need a seriously lethal actress. The Red-Eyed Killer is a remorseless assassin cold enough to even give Mick Trubble pause. With a small but dynamic amount of dialogue, the character has little face time, but impacts the entire story. When Mick faces off against his nemesis at the end, the entire story hangs on their interaction. You need an actress capable of deadliness and hypnotic magnetism. Milla Jovovich fits the bill.
I'd elect Alex Proyas for the director. I really enjoyed what he did with the neo-noir science fiction film Dark City, and would love to see what he could do with the city of New Haven and its inhabitants. Not too much a fan of his I, Robot film, but combine that with Dark City and you're practically in the world of  the Troubleshooter.
Ok, Hollywood: I did the hard work. All I need is a hundred million or so and we can do this. Bring on Brad Pitt to produce! It's a guaranteed blockbuster waiting to happen. Readers: what do you think of the cast choices? Let me know in the comment section, and stay tuned for the cast of New Haven Blues coming soon. Don't forget to pick up the new release: Most Dangerous Dame, coming on the 18th of this month!
Don't know what the heck the Troubleshooter is all about? Want more info? Check out the official website.